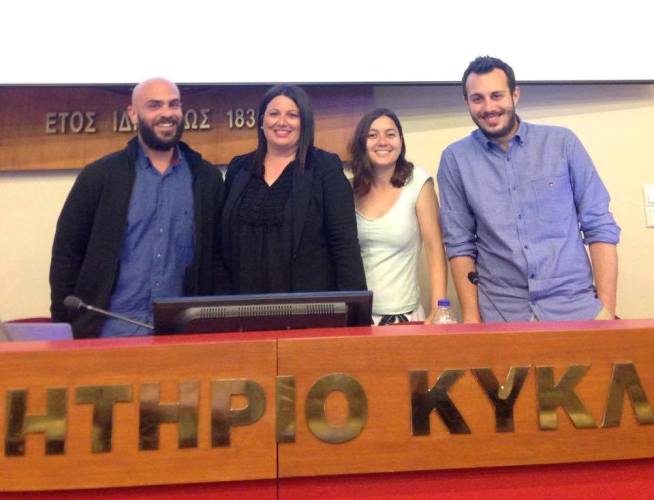 Τη Δευτέρα 9 Μαΐου 2016, η Ένωση Τουριστικών Καταλυμάτων Σύρου παρουσίασε τη νέα, σύγχρονη ιστοσελίδα της, Visit Syros, η μετάφραση και επιμέλεια της οποίας πραγματοποιήθηκε από το Yourtranslator.
Η ενημέρωση των μελών της Ένωσης και των πολιτών της Σύρου πραγματοποιήθηκε στην Αίθουσα Συνεδρίων του Επιμελητηρίου Κυκλάδων από τους ίδιους τους συντελεστές του απαραίτητου από καιρό αυτού έργου. Έτσι, για το σχεδιασμό και τη δημιουργία της ιστοσελίδας μίλησαν οι Νίκος Μεραμβελιωτάκης και Κώστας Βαλσαμάκης της Hiremycode, ενώ για τα κείμενα και τη μετάφρασή τους, η Ντίνα Τυροβολά από το Yourtranslator.
Η Ντίνα Τυροβολά μίλησε για τη σημασία της μετάφρασης για τουριστικές και εξωστρεφείς επιχειρήσεις και παρουσίασε τα βασικά στοιχεία της κειμενογραφίας και της επιμέλειας στο κοινό.
Δείτε ολόκληρο το βίντεο της εκδήλωσης ή διαβάστε περισσότερα για την παρουσίαση και την ιστοσελίδα εδώ.
***************************
On Monday, 9 May 2016, the Syros Tourist Lodgements Association presented Visit Syros, its brand-new, modern website translated and edited by Yourtranslator.
The new website was presented to the members of the Association and the residents of Syros in the Conference Room of the Cyclades Chamber of Commerce by the parties that contributed to this necessary and long-awaited project. Nikos Meramveliotakis and Kostas Valsamakis from Hiremycode spoke about the design and development of the website and Dina Tyrovola from Yourtranslator elaborated on the website texts and their translation.
Dina Tyrovola's presentation focused on the importance of translation for tourist- and export-oriented businesses and on the main aspects of copywriting and editing.
Watch a video of the event or read more about the presentation and website (in Greek) here.