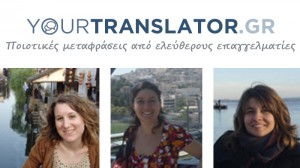 Η ιστορία μας ξεκίνησε το 2003 όταν συναντηθήκαμε στο Ιόνιο Πανεπιστήμιο για τις σπουδές μας: Μετάφραση και Διερμηνεία. Ακολουθήσαμε παράλληλους δρόμους μεταπτυχιακών (η Αλίκη Κινεζικά σε Σκωτία και Κίνα, η Μαρίνα Τουρκικά σε Τουρκία και Ολλανδία και η Ντίνα Διεθνείς και Ευρωπαϊκές Σπουδές στο Πανεπιστήμιο Πειραιά) και αφού αποκτήσαμε κάποια εργασιακή εμπειρία, αποφασίσαμε να κάνουμε κάτι δικό μας.
Έτσι, γεννήθηκε το yourtranslator.gr, μια υπηρεσία μεταφράσεων αποκλειστικά σε ηλεκτρονική βάση, η οποία καλύπτει τις περισσότερες ευρωπαϊκές και ασιατικές γλώσσες. Επιθυμία μας, η απλοποίηση των διαδικασιών, η άμεση επικοινωνία με τον πελάτη, η υψηλή ποιότητα και εξοικονόμηση χρόνου και κόστους.
Επιχειρηματικός μας στόχος; Η ενίσχυση των επιχειρήσεων που δραστηριοποιούνται στο εξωτερικό με την κατάργηση των γλωσσικών εμποδίων!
Our history dates back to 2003 when we met at the Ionian University for our studies: Translation and Interpreting. We followed parallel paths regarding our postgraduate studies (Aliki studied Chinese in Scotland and China, Marina Turkish in Turkey and the Netherlands and Dina International and European Studies at the University of Piraeus). After we had gained some work experience, we decided to work on our own.
And thus came up the idea of yourtranslator.gr, an exclusively online translation service, covering most European and Asian languages. We aim at simplifying the procedures, developing direct relations with customers and offering services of high quality, saving time and cost at the same time.
Our business objective? The strengthening of companies operating abroad, by removing the existing language barriers!
Read the complete interview in English and in Greek here. Thank you Growing!