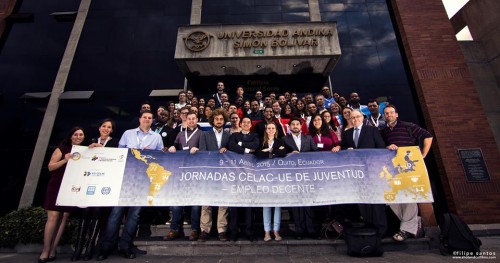 The Academy of Entrepreneurship had the honour to participate in the CELAC-EU Youth Days: Decent Employment event, taking place on 9-11 April 2015 in the capital of Ecuador, Quito.
The event was organized by the EU-LAC Foundation with the sponsorship of the Government of Ecuador as Pro-Tempore Presidency of the CELAC, and the support of the European Youth Forum, the Latin American and Caribbean Youth Forum and the International Labour Organization (ILO).
The participants were 40 youth delegates from Latin America, the Caribbean and the European Union, representing a number of sectors ranging from employers, employees, government, social movements, policy-makers and academia, all brought together to talk about the challenges of youth employment. The purpose of the meeting was the drafting of a common proposal with concrete solutions demanding decent and quality employment for youth. The outcome of the Youth Days will be presented as input for the next EU-CELAC Summit of Heads of State and Government that will take place in Brussels in June 2015.
The Academy of Entrepreneurship and Greece were represented by Aliki Anagnosti, Co-founder of Yourtranslator.
The document, known as "Quito declaration", is available here.
*****************************************
Η Ακαδημία Επιχειρηματικότητας είχε την τιμή να λάβει μέρος στο Συνέδριο CELAC-EU Youth Days: Decent Employment που πραγματοποιήθηκε στην πρωτεύουσα του Εκουαδόρ, το Κίτο, στις 9-11 Απριλίου 2015.
Το Συνέδριο πραγματοποιήθηκε υπό την αιγίδα του Ιδρύματος EU-LAC (ΕΕ – Λατινική Αμερική και Καραϊβική) με τη χρηματοδότηση της Κυβέρνησης του Εκουαδόρ και την υποστήριξη του Ευρωπαϊκού Φόρουμ Νεολαίας, του Φόρουμ Νεολαίας της Λατινικής Αμερικής και της Καραϊβικής και του Διεθνούς Οργανισμού Εργασίας.
Στο Συνέδριο συμμετείχαν 40 νέοι από τη Λατινική Αμερική, την Καραϊβική και την Ευρωπαϊκή Ένωση, εκπροσωπώντας διάφορους τομείς, όπως συνδικάτα, επιχειρηματικούς συλλόγους, κυβερνητικούς φορείς, κοινωνικά κινήματα, τον επιχειρηματικό και ακαδημαϊκό κόσμο και φορείς χάραξης πολιτικής προκειμένου να συζητήσουν για τα προβλήματα που αντιμετωπίζουν οι νέοι στον εργασιακό χώρο. Σκοπός αυτής της συνάντησης ήταν η σύνταξη μιας κοινής πρότασης με συγκεκριμένες λύσεις για σωστές και δίκαιες εργασιακές συνθήκες για τους νέους. Η κοινή πρόταση θα παρουσιαστεί στη Διάσκεψη Κορυφής EU-CELAC (EΕ – Κοινότητα Κρατών Λατινικής Αμερικής και Καραϊβικής) που θα πραγματοποιηθεί τον Ιούνιο στις Βρυξέλλες.
Η συμμετοχή της Ακαδημίας Επιχειρηματικότητας και της Ελλάδας εκπροσωπήθηκε από τη συνιδρύτρια του Yourtranslator, Αλίκη Αναγνώστη, μετά από σχετική πρόσκληση.
Το κοινό έγγραφο που συντάχθηκε, γνωστό και ως "Η Διακήρυξη του Κίτο", είναι διαθέσιμο εδώ.