Platform magazine published an interview with Yourtranslator.gr in its December issue. You can see the interview in Greek or read the English translation below.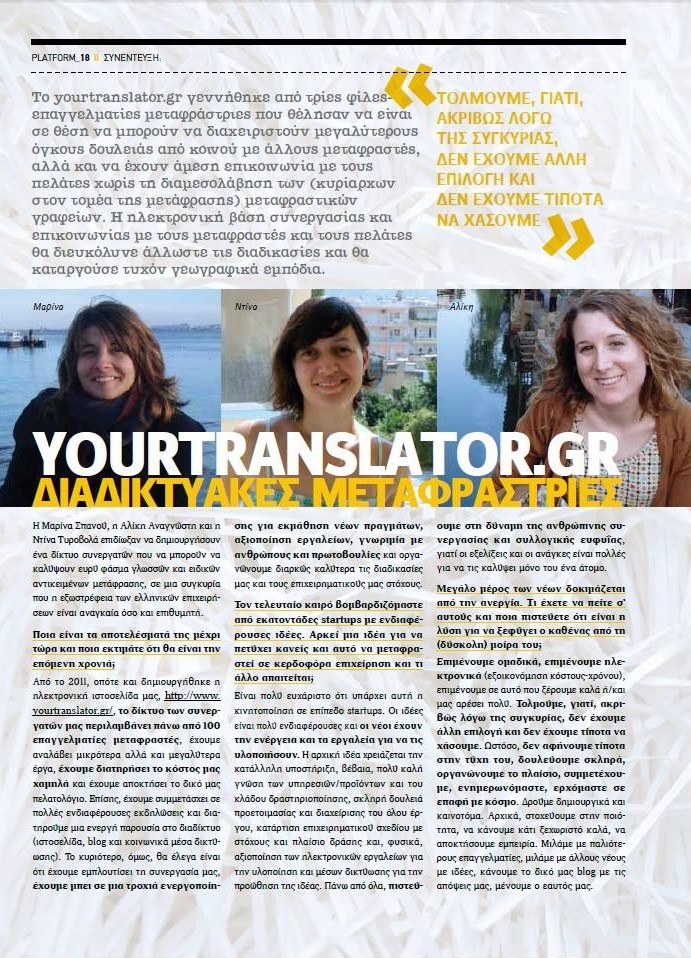 YOURTRANSLATOR.GR – ONLINE TRANSLATORS
Yourtranslator.gr was created by three friends, professional translators, whose aim was to manage larger volumes of work in collaboration with other translators, but also to have direct contact with clients without the intermediation of translation companies (which are the dominant force in the field of translation). Furthermore, this electronic platform of collaboration and communication with translators and clients would make the translation process easier and would eliminate any geographical barriers.
"We dare, because, precisely due to the current situation, we have no other choice and we have nothing to lose."
Marina Spanou, Aliki Anagnosti and Dina Tyrovola sought to create a network of collaborators who could cover a wide range of languages and specializations, at a time when the expansion of Greek companies to other markets is both necessary and desirable.
What are the results of your activities up to now and what do you expect for next year?
Since 2011, when we created our website www.yourtranslator.gr, our network of collaborators has grown to include over 100 professional translators, we have completed smaller and larger projects, we have managed to keep costs low and have built our own client list. Furthermore, we have participated in many interesting events and we have an strong online presence (website, blog and social media). Most importantly, we have enriched our collaboration, we are motivated to learn new things, utilize new tools, meet people and get in touch with new initiatives and we are constantly improving the organization of our internal processes and business goals.
Lately there has been an influx of new startups with interesting ideas. Is an idea enough for someone to succeed in creating a profitable business? What else is required?
We find this influx of new startups very positive. The ideas are really interesting and young people have the energy and tools to implement them. Naturally, the initial idea requires the appropriate support, a very good knowledge of the services/products and the general field, hard work for the preparation and management of the entire project, a business plan with concrete goals and a framework for action and last but not least, the use of electronic tools for its implementation and of social media for promotion. Above all else, we believe in the power of human collaboration and collective intelligence, because the latest developments and needs are too many to be covered by just one person.
A large number of young people are suffering from unemployment. What would you say to them and in your opinion, what is the way out of the (difficult) impasse we are all facing?
We stay focused on team work, we stay focused on online solutions (saving cost and time), we stay focused on what we can do well and/or we are passionate about. We dare, because, precisely due to the current situation, we have no other choice and we have nothing to lose. However, we don't leave anything to chance, we work hard, we organize the right framework, we participate, we learn, we interact with other people. We act creatively and innovatively. Initially, we aim at quality; we try to do something special and do it well in order to gain experience. We consult more experienced professionals, we speak to other young people with ideas, we create our own blog to share our views and we stay true to ourselves.